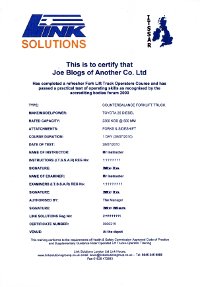 Professorial training by an accredited training provider is required for all types of mechanical equipment. Our ITSSAR accredited Instructor / Examiners come to you and carry out a full training course on your site. This ensures that the trainees are trained in a familiar surroundings.
Mechanical lifting and powered work shop equipment is widely used throughout the industry. It is essential kit for most businesses for lifting and moving all type of products and equipment but they also feature prominently in workplace accidents. Even an incident not resulting in injury may result in costly damage that may stop your operation whilst repairs are made. Training your staff will not stop accidents happening but it will reduce the frequency of incidents and ensure you have carried out your responsibilities as required by the Health & Safety at Work Act 1974. Remember Safety First your staff are your most valuable asset.
HERE ARE SOME OF THE COURSES AVAILABLE
FORKLIFT TRUCK CATEGORIES
Counterbalance, Reach, Order Pickers, Narrow Isle, Side Loaders.
Telescopic Handlers, Moffet-Mounty, Rough-Terrain, Pivot Steer and all Pedestrian type pallet handling equipment
OTHER EQUIPMENT
Lorry Loaders including On Remotes, Overhead Gantry Cranes, Loading Shovels, Working Platforms, Most Construction Plant and Equipment.

WORKSHOP
Abrasive Wheels, Manual Handling, Lifting Equipment, PAT testing.
Should the training you require not be listed please call us to discuss your requirement in detail on 07771 988831